Walker Print Ltd. – Manchester
Bookbinding, Restoration, Student Theses, Brochure & General Printers
 Covid19 –  05/01/2021 Lockdown Update:
We are still working through our online service and are doing our best to make sure our customers are still completely taken care of.
If you have any questions or queries, please email us and leave your mobile number so we can reply to you as soon as we can.
Due to staff working from home, the phones will not be on all day, every day so please contact us in the first instance by email, leave your contact number on your email and we will reply or call you as soon as we can.
All works for the foreseeable future will need extra time to complete due to staff limitations.
**POST GRADUATES for Salford University/ Bolton University Submission, please read below**
We are still open for business. As the University is in lockdown for the foreseeable future and due to our long standing collaboration with our partner, Salford University, they have confirmed that when your work is completed with us it will be deemed to have been submitted.
Protocols are in place between ourselves and the Post Graduate Office for submission and dispatch to examiners where necessary of your completed Soft or Hard Binding(s) once we have bound them.
Please be reassured we are here to support you throughout this difficult time and anything we can do to help, get in touch.
From all at Walker Print Ltd.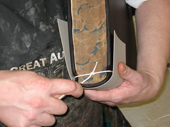 Bookbinding
Traditional methods for traditional jobs
Walker Print Ltd is a family business and our bookbinder have over 30 years experience. The business looks after trade, student and corporate customers alike.
We continue our commitment to providing a quality service to all customers with a special focus on excellence for hardbinding student theses and dissertations.
As well as our bookbinding, thesis & dissertation, restoration and book of memoriam services, we provide high quality general printing services, especially brochure printing.
We are committed to high levels of investment in new technology and staff training to ensure we deliver the best service at all times to all of our clients – no matter what the deadline!

Call us today on 0161 773 3297 to discuss your requirements and book an appointment.
Manchester based Walker Print Ltd Craftsmen have provided thesis and dissertation binding to Universities in the North West and the UK for 30+ years
Here at Walker Print Ltd, we pride ourselves on our skills in bookbinding and specialise on the restoration and repair of the books that are brought into us.
This is a new service that we are introducing. A description of the service will be displayed soon. It wont be long before you can access this great new service!
We provide printing and binding services for Books of Memoriam and Orders of Service for a special ceremony to remember a loved one.
Edge gilding is a luxurious finishing process and really makes your book ooze elegance, making it stand out around those non gilt edge books.
We offer a Personal Publishing service. We can walk you through the maze of taking your written words into a final hard back binding.
*N.B. Please note, all works undertaken by Walker Print Ltd are subject to our standard terms and conditions of business. A copy of which is available on request. E&OE.